---
GST Returns Analytics and IRN
GST e invoicing System or electronic invoicing is a process of validating invoices electronically thru GST Network (GSTN) for further use on common GST portal. It does not mean generation of invoices from a central portal of tax department. This process will involve the connection with Invoice registration portal( IRP) or manual upload of invoice data in specified format on IRP to get the acknowledgement. BSC Global being an ASP has leveraged GST Return software with IRN and EWay automation along with Analytics to give you deep insight in data .
BGST a simple solution by BSC Global has been built with an focus to simplify SAP and other ERP 's , BSC Global has built GST e Invoicing system to simplify the adoption of Legal GST compliance and fully automate the response from GST IRP and updation of BARCODE and QR Code Response back in SAP system . Covering various areas ranging from Implementations of GST in SAP , BSC Global as ASP , BSC is implementing E invoicing software in SAP both manual and automatic options with a good dashboard in SAP ABAP to keep track of all the GST E Invoicing functionalities . BSC's Simplified Solution for adopting e invoicing GST has been updated in existing solution for GST ASP solution BGST
How can BSC Global help you with E Invoicing Software and GST E way Billing

Simplified Delivery for E Invoicing
BSC Global has simplified the project of E Invoicing GST with efficient interface set up in BGST. We connect the ERP systems of client which can include SAP, MS Dynamics, Excel, etc. to connect with our interfaces in seamless way. With one place to monitor and no additional steps for teams who are running ERP we have simplified the response from the IRP portal for both GST E invoicing and GST E Way billing. There are few steps involved
Step 1:Seller sends data to BGST through API or Excel file
Step 2:BGST validates the data and forwards the data to IRP portal in JSON format
Step 3 :Response from IRP is received by BGST and forwarded back to seller system
Secure & Fast Solution
BSC Global ensures that data which is submitted to IRP is not stored anywhere and directly encrypted and submitted to IRP Portal. With an secure GST e invoicing system in place to handle one click IRN generation for SAP we ensure customer gets the best. This solution enables couple of advantage for E way and E invoicing system which include:
Efficiency in System
Paperless system
Fraud Deduction
Reconciliation option
Connection with SAP , MS and other systems
On cloud so pay as you go
No installation hardware needed
Secure encrypted data submission and decryption in target system
Why Choose BSC Global as Your partner for GST E Invoicing and GST E way Billing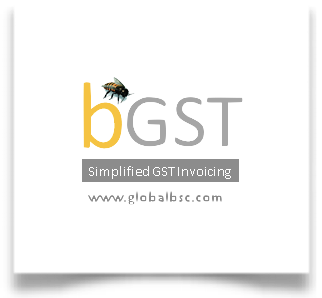 BGST Simplifies for GST E invoicing and GST returns
BGST is a one integrated solution which comprises of GST E invoicing and E way billing compliance approach for GST Returns, validation and data checks.With a proven track record of handling multiple customers across India, BSC has worked efficiently with 100 percent up time for customer in terms of their GST ASP Needs. BGST has enables users to meet GST compliance of all category of business like regular dealer, ISD, tax deductor, E-commerce operator, Non-residents.
With new additions of e invoicing GST software and e way billing BSC Global covers end to end implementation for Microsoft Dynamics and SAP in terms of having the cockpit build in Customer ERP and making the connection with IRP. Customers have one place to monitor with the appropriate dashboard and analytics in place, they can easily identify returns and success message with the alert mechanism. GST E way billing automation is also part of this solution . Thus BGST acts as one complete solution for all your GST automation needs. Proven track record of implementing this solution at various customer
Automate SAP E invoicing -Manual & Automatic- Solutions powered by B GST
BSC Global helps you to adopt all rules of E invoicing with both SAP Manual and SAP Automatic solutions for E invoicing GST. Cost effective services with trained professionals to help you to achieve the legal compliance in a simplified way. Proven track record of implementing various products and interfaces BSC Global has been helping companies to achieve their legal compliance goals in an efficient and cost effective way.
---
GST E invoicing and E Way Billing FAQs- Frequently Asked Questions
---
Q1.What is GST E invoicing?
GST e invoicing or electronic invoicing is a process of validating invoices electronically thru GST Network (GSTN) for further use on common GST portal. It does not mean generation of invoices from a central portal of tax department. This will help in achieving better taxpayer services,reduction of tax evasion and efficiency in tax administration by elimination of fake invoices.
Q2 . Is GST E Invoicing applicable to All Tax Payers?
No, at this moment in first phase its applicable to only those tax payers whose aggregated turn over in a financial year is more than 500 CR in previous year.
Q3. Will E way remain there ?
Yes, E way bill will remain in place until notified by Government.
Q4. Will exports require GST e invoice compliance?
Yes, E Invoicing also caters to export invoices as well.