Supplier Management Modernised
Efficient Vendor Onboarding , Vendor Self Service, Vendor Comparisons , Vendor Rating,Dispatch & MRN Management ,Integrate with SAP and Non SAP , Indent Management Purchase order management ,Auto Bidding
Finolex gets 20% saved through post service management
EMCO reduces the vendor comparison cycle by 80%
Largest Health Care Company : 70 % time reduced for onboarding of new vendor
With a proven track record of delivering the simplest solutions in ERP, BSC Global brings iServe as the simplified Vendor Management Software that has ensured that clients get the real insight into various domains of vendor management . Iserver delivers various areas which with an built in Artificial intelligence for vendor management – Vendor Onboarding -Self Service for vendors , Vendor Comparisons for get the right vendor for our service and product needs , Analytics and insight , Dispatch & MRN Management with back end systems including SAP and Non SAP , Indent Management can be done with backend system, Purchase order management for vendors for direct access to their PO's and invoices summitted against that ,Auto Bidding – get your vendors directly informed for the product or service needs to get the right bids.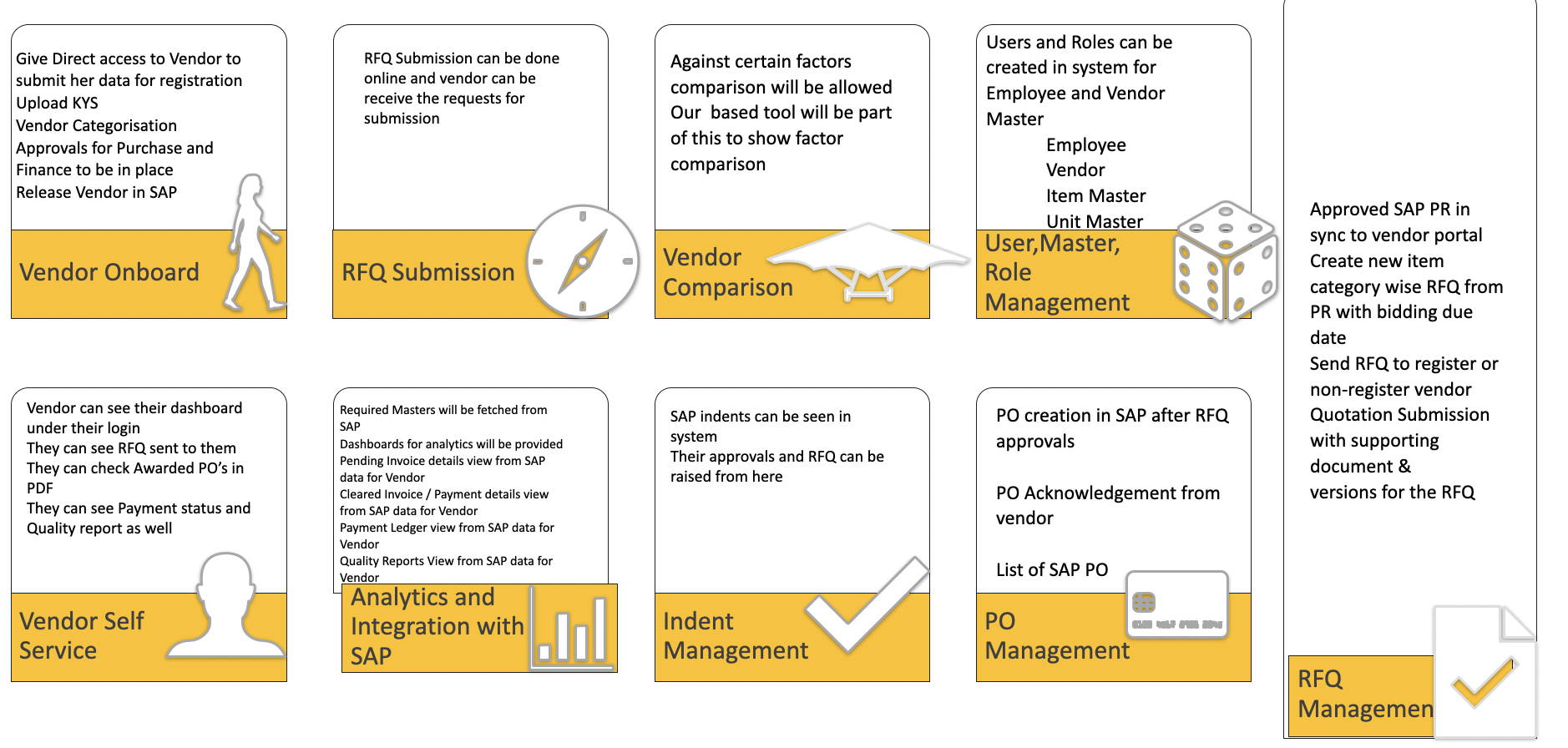 Covering end to end Road Map designing to modernization digitalization of vendor management . We help our partners to adopt, Innovate, Realize and Analyse their vendor management with simplified solutions and approaches to help in modernizing the vendor support and selection.
On Cloud Vendor Management Software
In Built Artificial Intelligence to help you with vendor comparison
Analytics for Vendor Management
Security for Vendor Management
Mobility apps for Vendors
---
How BSC Global Can help you with Vendor Management?
---
Simplify
Adoption and Reachability
Simplified Adoption of Vendor Management for SAP customers and other ERP users. BSC Global brings business understanding for the relevant business processes which can automate various vendor management processes and help you to get the right vendor for the right service or material needs .Its available on cloud and with just 6 days of adoption cycle you can begin your vendor management software.
Self Service
And Plan the business
Its been observed that vendor master data management and its validation time to time takes lot of efforts for the core team. The self service option for vendors and system based Artificial Intelligence which checks time to time the validity of vendor master ensures that we are interacting the updated information of vendors which is managed by them only
Insight
Many Successful Go Lives
With Iserve you empower your business to find the right vendor for you product or service needs with the easy rating and search options. You can rate around 10 parameters of each and compare them to get the right vendor for your needs.
Empower
Business to get the right vendor for service and product
With a proven competence of delivering finest and successful implementations across the globe in Analytics and advance BSC delivers some of the finest analytics insight for bench marking , rating and analytics of various KPI's of Vendor management
Why Choose Global BSC for Vendor Management Software?
---
Happy Clients
BSC has many happy clients across the wold in Vendor Portal management
---
Fastest
Company to Implement VM
---
BSC Global has been delivering the fastest deployments in various ERP areas including Vendor Management software India. It a ready to deploy for SAP customers who want to connect their ERP for Efficient vendor management. For other ERP users we bring the efficient process and insights to customize as per their needs
The software has been the most cost effective solution for adoption on cloud. With the minimum deployment cost you can just begin the most cost effective solution on cloud . User based license allows you to deliver the best options.
40%
Cost Reduction in Vendor Management
---
Its been observed that BSC Global Vendor Management Sofware iServe has reduced the cost of vendor management for clients by minimum 40 percent . Thus helping business to get the real value from the deployment.
---
Award Winning Solutions
---
Top 10
Awarded amongst top 10 Vendor management Software for SAP Customers
---
1st
Artificial Intelligence Based Vendor Management software -By Klicks
---
Secure
Security audit of the software suggests that its the most secure architecture
---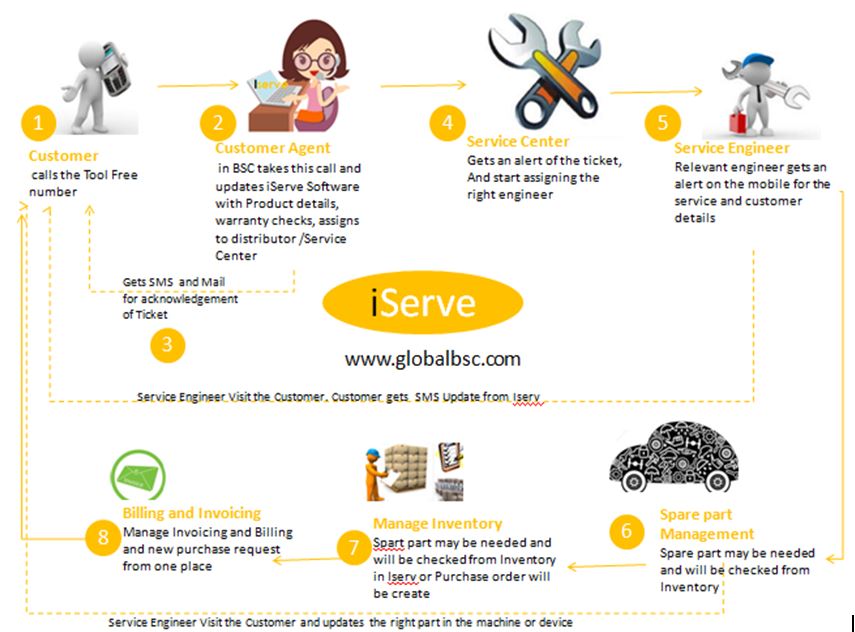 360 Service Managment by iSERVE
iServe is an end-to-end customer service management software which streamlines complete service,warranty,spare part ,dealer , purchase and inventory management of a company.
With a growing need where customer focus and customer satisfaction has a direct link with growth of sales, every industry doesn't only need a good product but also a good customer service which can be a deciding factor while buying a new product. Read More
---
Vendor Management Software FAQS- FREQUENTLY ASKED QUESTIONS
---
Q1 . Can you tell little bit about SAP Integration with IServe Vendor Management Software?
With all built interfaces and workflows in place its each to integrate Vendor Management software for SAP customers
Q2. Is this free Vendor Management Software download?
Yes, its a free vendor management software if you are small enterprise.
Q3 . Is it vendor management software for Small business?
Its for both small and large enterprises with successful case studies in all types of enterprises its the best for adoption.
---
---