Problem Statement: Client was sharing the currency exchange rates from a other source system. That system was modified to download file at one location. We made a provision to upload that file . Basically no exchange rates were extracted from a normal approach from source system to SAP BW .
Solution
Step 1: SAP BW under the source system FLAT- select transfer exchange rate.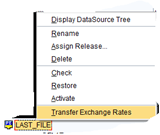 2. Select Client workstation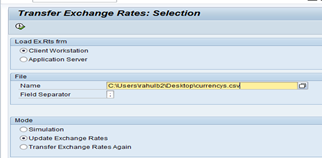 3. Exchange rates get updated

4. Check this data we can go to Tcurr table and we can see the data updated , write a scrip to schedule and our requirement is fullfilled.