---
SAP RISE Implementation with GO DIGITAL solutions from BSC GLOBAL
INTELLIGENT ERP IS THE FOUNDATION OF AN INTELLIGENT ENTERPRISE
Our Team focus on building the intelligent enterprise with every SAP RISE Implementation for our clients..
We aim to create value in implementation with sharp focus towards advanced technologies such as artificial intelligence, machine learning, and the internet of things. With leading-edge industry best practices we work together to build flexible value chains for your customers, partners, and employees ,and most important the environment thus making our implementations successful ,and sustainable.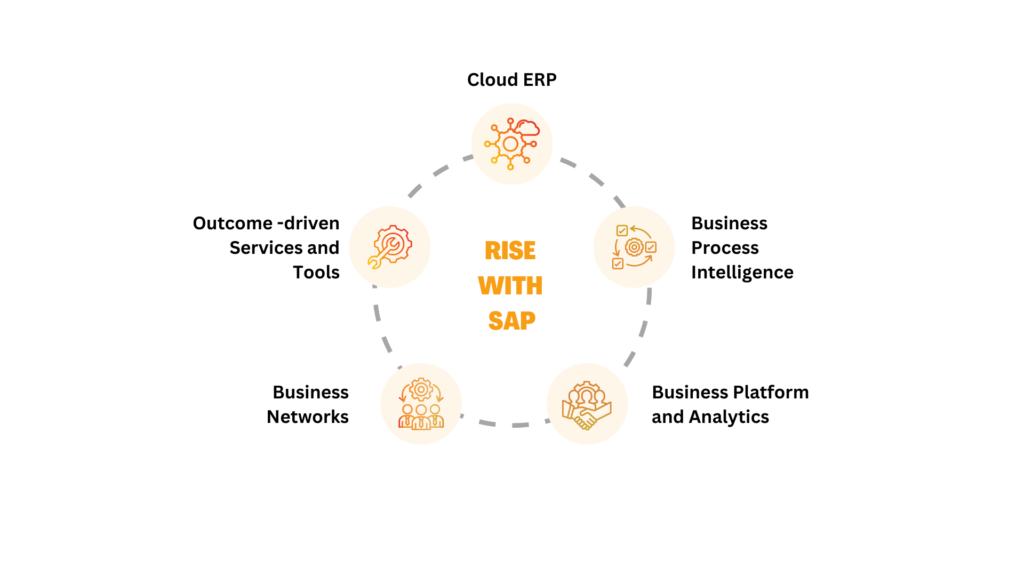 Your Journey starts here to getbenefits from Rise With SAP withBSC Global
Our SAP Support = Run SAP + Improvise
Improvise all the processes in system through the proprietary IDA methodology where we focus on stability along with the best practices to improvise and digitise any process in SAP .Our AMS Support Team helps you to fix all the broken areas and give a new road-map in terms of process and technology.
Add the required set of things as per our template for SAP AMS and help you adopting new automation in digital roadmap.
1
Improvise all the processes in system. Fix all the broken areas and give a new road-map in terms of process and technology.
Add the required set of things as per our template for SAP AMS Support Model.
2
Digital solutions Mobility, Digital Signature of all document, Advance Analytics including embedded and predictive, better User experience
3
Automate Processes which have been the core for digital transformation road map and hence move on…
Happy Clients
We thank our Customer for helping us to Deliver Success Stories
BSC GLOBAL has helped it partners to deploy software's , transform operations, automate business and deliver smiles .
Many 100 Year Old brands Trust BSC Global for SAP Support
Largest Health Care Company got its Warehouses Digitalized by BSC
Largest Ice-cream maker in world Trusts BSC for Digital Transformation,
Largest Engineering Brand Gets SAP Digital Transformation Services ,
Largest Bike Making Company in India has SAP Consulting services delivered by BSC Global
One Stop for All SAP Support
All Modules and Technologies of SAP supported Globally for all industries
With a 24X7 support coverage around the globe BSC support all areas of Advisory for SAP AMS Support. Our SAP Services include SAP RISE, Core ERP( ABAP, SD, MM, FICO, PP, QM and All other core modules), SAP HANA, Analytics ( BW, BI, lumira,Embedded Analytics, Cloud Analytics , Embedded HANA , HANA live, Data Intelligence) , SAP Finance ( FI , CO, PS, BPC), SAP Logistics ( MM, SD, WM, EWM, PP QA) , SAP Sales ( CRM, HYBRIS, GTS), SAP User Experience ( SAP FIORI , SAP Personas), SAP Security ( Authorization , GRC), SAP Technical ( ABAP, HANA CDS, HANA Views, DB, SAP Weigh Bridge Support,SAP Industry Solution(Manufacturing,Health,Chemical,Utility ,Telecom, Finance, Bio Pharma) , DR.
Value Created for Global Brands
We have helped many clients by not only providing cost efficient services but created value for business
With no commitment of hours model to dedicate offshore and onsite support models BSC Global provides cost effective pricing models for SAP Application Management services . Flexible models to help you chose what best fits your business, Also creating various business process improvements and automations for world renowned brands.

Why Choose Global BSC for SAP AMS Services?
Small businesses stand to reap significant rewards from embracing SAP Application Management Services (AMS), a comprehensive solution that ushers in a new era of operational efficiency. The benefits of AMS are far-reaching: it empowers small enterprises to harness the full potential of their SAP systems without the resource-intensive burden of internal management. As these businesses focus on core operations and growth, AMS, with its dedicated experts, takes charge of day-to-day system operations and maintenance. This proactive approach ensures system stability, security, and scalability, while minimizing the risks associated with downtime and disruptions that could derail business continuity. A crucial aspect of this journey is choosing the right SAP AMS provider, a decision that demands careful consideration. Evaluating a provider's experience, industry expertise, and track record is essential. Factors such as responsiveness, tailored support options, and alignment with the business's unique needs are paramount. An adept provider guides small businesses through the intricacies of AMS cost analysis for enterprise. Understanding the total cost of ownership is imperative, encompassing initial setup costs, ongoing maintenance fees, potential savings from reduced downtime, and the opportunity costs of reallocating internal resources to core functions. Armed with this knowledge, businesses can make informed decisions in line with their budgets and strategic aspirations.
When contemplating the cloud, SAP AMS offers indispensable guidance in best practices for cloud migration. Comprehensive assessments, meticulous migration plans, and data backup and disaster recovery strategies ensure a smooth transition. The contrast between SAP AMS and traditional IT support is stark and underscores the value of AMS. AMS provides dedicated experts specializing in SAP systems, offering proactive monitoring, regular maintenance, and continuous optimization. In contrast, traditional IT support is often reactive, addressing issues as they arise. AMS prioritizes long-term system health and strategic alignment, while traditional IT support tends to focus on immediate technical resolutions.
Enhanced system performance is a hallmark of SAP AMS, which continuously monitors and optimizes SAP systems, minimizing downtime and heightening user experiences. Understanding SAP Application Management Services is key—a comprehensive suite of solutions that manage maintenance, support, and optimization of SAP systems. Entrusting these tasks to AMS experts ensures resilient, secure, and strategically aligned SAP systems, freeing up internal resources for other critical endeavors. For businesses navigating complex environments, SAP AMS serves as a guiding light, streamlining operations while addressing intricacies. As with any transformative endeavor, SAP AMS implementation may come with its own set of challenges. Effective communication, change management strategies, and collaboration with AMS providers are instrumental in surmounting these obstacles. By adopting an incremental implementation approach guided by experienced providers, businesses can optimize their SAP systems, achieving successful integration that empowers digital transformation and operational excellence.
Flexible Models for SAP AMS Service
Pay as You Go
You may pay as per the usage of the services . There is no commitment hours needed for this option
Fixed Hours
You can buy fixed hours for a period the more hours you commit the less is the billing rate .
Dedicated Resource
You can have your resources dedicated in offshore or onsite teams without any commitment of hours.
Book Appointment with Our SAP Experts
We are there for you
In case you have any question , any doubt , any form of query we are just two clicks away from you. You may book your available time slots and we assure you that we will book your calender and schedule virtual or personal meeting with you on that specific day
---
SAP AMS FAQS- FREQUENTLY ASKED QUESTIONS
---
Q1 . What is full form of SAP AMS ?
SAP AMS means SAP Application Management Services or SAP Managed Services which include all processes, methods, techniques to manage and enhance and improve SAP software.
Q2. What all is covered by BSC Global under SAP AMS Support
BSC Global covers all modules , round the clock 24×7 to support all customers around the clock . Covering all the technologies and functionalities of SAP we handle AMS from our offshore delivery centers in India and also help customer onsite.
Q3 . How can BSC leverage the SAP AMS Projects through SAP AMS Best Practices ?
BSC has proprietary IDA tool which is based on SAP AMS Best practices to support SAP AMS Projects .