---
SAP HANA AWS- Go Digital with our HANA AWS Services
---
SAP HANA is intelligent in-memory computing engine which can leverage the ERP operational efficiency for SAP Customer. BSC Global helps customer in their Digital Transformation Journey towards Cloud Computing. Technically Strong ,young and dynamic team which has delivered successful SAP HANA AWS migrations. As a SAP HANA AWS Service Provider we have achieved 100 percent success rate in all AWS Migrations.
Migrations from On premise to Cloud, Implementation on or migrate to SAP S4 HANA AWS, SAP DevOps Enablement, SAP Archiving on AWS, SAP Disaster Recovery on AWS and SAP AWS Management Services
Our SAP HANA AWS services include all major SAP applications including Native HANA application, Analytics, S/4 HANA, BW /4 HANA, SAP S3 HANA, AWS S4 HANA, SOH, SAP BW on HANA , BPC On HANA and B1 on HANA.
0
Near 0 Downtime
BSC solutions , approach has helped customers to achieve the 0 downtime for business continuity. This has helped various customers in keeping their business up and running even when this project of migration was on.
100%
Uptime
BSC under its application management for SAP HANA AWS Services has ensured the 100% uptime for SAP applications using the best techniques for monitoring and managing the applications on SAP Cloud AWS.
60%
Cost Reduction
BSC ensures that customers get the cost effective solutions and tools which can not only leverage the digital road map of company but also help in cost saving up-to 60%.
---
How BSC Global can help you with SAP HANA in AWS
---
Assess
Clear Approach and Assessment Techniques
---
BSC helps its customers with simplified assessment to derive the best approach for migration or implementation on SAP HANA in AWS. SAP HANA migration to AWS have been simplified with a clear approach definition with a simplified Assessment approach. Deriving the right sizing for both SAP HANA Migration and SAP HANA RDS Implementation has helped our customers to save both resource and money.
---
We ensure that SAP HANA migrations on AWS are successful by clear focus to enhance and bring the real power and capabilities of SAP HANA to customer. BSC has a proven competence of delivering SAP Services and the projects in AWS and has made all migrations smooth for customers.
Smooth
Add Value to Migration
---
---
Fast
Ensure Right ROI for the business
---
With a record time of 5 days for delivering the SAP HANA Migration from on premise to cloud .BSC has achieved various such milestones and helped customers to derive the best out of SAP HANA Implementation or Migration in AWS.
Tools
Dcore – Right Tool for Modernization
---
DCore is a BSC's propriety tool which has been designed to help you in finding the best path to SAP S/4 HANA migration and optimize your cost of moving to modernized digital world in SAP. It helps you to take the best from S4 HANA systems in case you have already moved to HANA.
---
---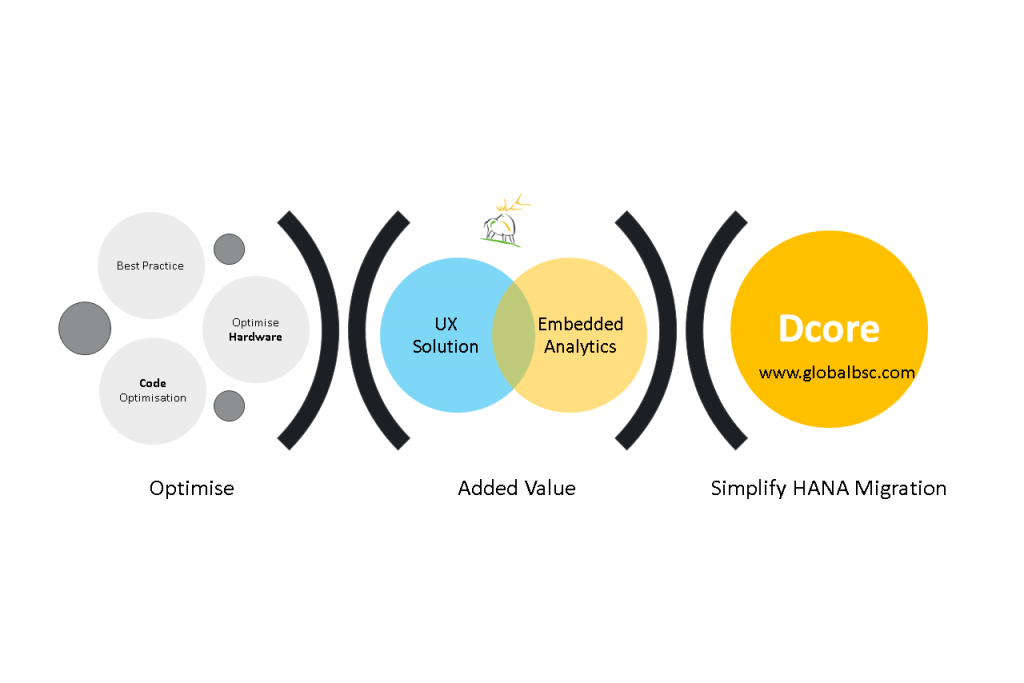 Why Choose BSC Global for SAP HANA Migration
Happy Clients
BSC has proven Experience in handling the AWS Migrations
---
SAP HANA AWS Migration FAQS- FREQUENTLY ASKED QUESTIONS
---
Q1 . What are different offerings available on AWS for SAP HANA?
Through BSC we are supporting in setting up all major application including SOH, S/4 HANA, BW , BPC , Native applications in AWS HANA.
Q2. How can I design the high availability for our SAP HANA on AWS?
We can design HA using EC2 automatic recovery or DR
Q3 . How may days does it take for migration?
It varies from system to system complexity, BSC has record time for migration of 5 Days which is appreciate by AWS as well.
---