---
Free CRM Solution to help your business to sell in efficient way
---
With a proven track record of delivering the simplest solutions in ERP, BSC Global brings SimpCRM as the simplified Customer Relationship Management Software that has ensured that clients get the real insight into various domains of Customer management . SimpCRM delivers various areas which with an built in Artificial intelligence for Customer management – Customer Onboarding -Self Service for Customer , Customer insight for offering the right service and product needs , Analytics and insight , Lead Management with back end systems , Opportunity Management to get real focus on what should be tracked opportunity and with proper alerts , Account management for customer for direct access to record information in more than fifteen parameters ,Compliant Management- Helps you to track the direct complaints from your customer for the products and services, 360 Degree Service Management for product based and service based companies.
360 Degree Customer Relationship Management with SimpCRM
Customer Onboarding ,Customer insight , Lead Management , Opportunity Management , Account management
Run marketing campaigns with easy of workflows and template designing
Cost Effective Secure and Easy to start
Call us in +91-9356412171
Covering end to end Road Map designing to modernization digitalization of Customer management . We help our partners to adopt, Innovate, Realize and Analyse their Customer management with simplified solutions and approaches to help in modernizing the Customer support and business tracking.
On Cloud Customer Management Software
In Built Artificial Intelligence to help you with focused sales plan
Analytics for Customer Management CRM
Security for CRM
Mobility apps for CRM
---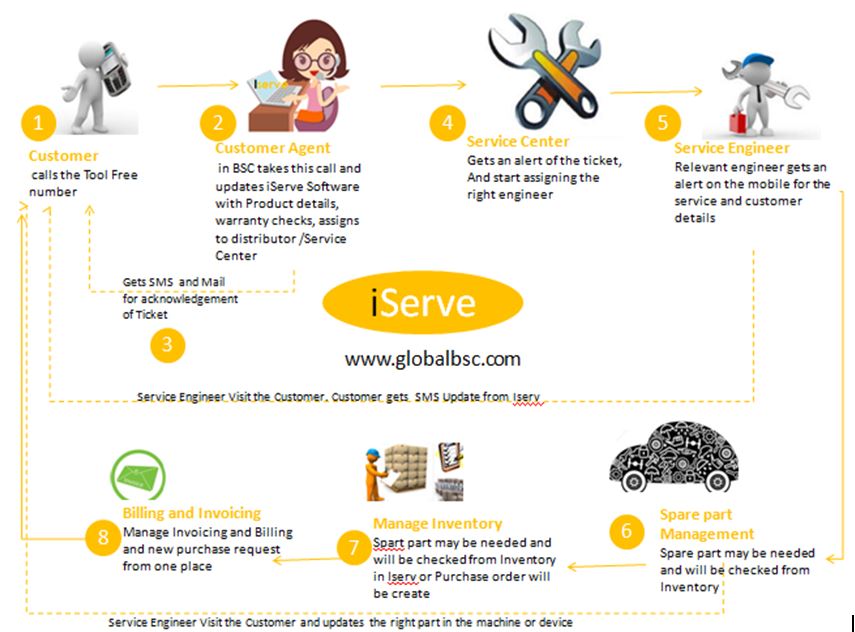 360 Service Managment by iSERVE
iServe is an end-to-end customer service management software which streamlines complete service,warranty,spare part ,dealer , purchase and inventory management of a company.
With a growing need where customer focus and customer satisfaction has a direct link with growth of sales, every industry doesn't only need a good product but also a good customer service which can be a deciding factor while buying a new product. Read More
How BSC Global Can help you with Customer Relationship Management?
---
Simplify
Adoption and Reachability
---
Simplified Adoption of Customer Management for SAP customers and other ERP users. BSC Global brings business understanding for the relevant business processes which can automate various pre-sales processes and help you to reach the right prospect for the business and help in winning leads .Its available on cloud and with just 6 days of adoption cycle you can begin your Customer management software.
---
Its free for the enterprises who have maximum 4 users. The self service option for sales team and system based Artificial Intelligence which checks time to time the validity of customer master ensures that we are interacting the updated information of vendors which is managed by them only
Its Free CRM
And its AI based CRM
---
---
Insight
Many Successful Go Lives
---
With SimpCRM you empower your business to get the right feedback from customer for you product or service delivered with the easy rating and search options. You can rate around 10 parameters of each and compare them to get the analytics for your feedback
With a proven competence of delivering finest and successful implementations across the globe in Analytics and advance BSC delivers some of the finest analytics insight for bench marking , rating and analytics of various KPI's of CRM
Empower
Business to get the right feedback for service and product
---
---
---
Why Choose Global BSC for CRM Software?
---
Happy Clients
BSC has many happy clients across the world in Customer Portal management
Automate your selling with SimpCRM
Automate the selling by having the Artificial Intelligence (AI)built in system to suggest you based on the logs where you should focus more and where could be more opportunities lying for your business
Forecast Business Trends and sales pipeline
You may like to predict the trends of business and find the right funnel tracking to see where the opportunities are hiding with the right amount of revenue growth plan
---
Vice President of Cody
SimpCRM has helped us to gain the right growth we were expecting with the help of tool. Being simple to use it has helped our sales team to keep tracking of their leads in efficient way.
---
---
Seamless Integration of Business Processess.
Quick ROI
Integrated Strategy Making Tool
Cost Effective
Empower Customer and Supplier
Faster deployment
Big Data database.
Web Based Design.
Access SimpCRM from anywhere.
Save hardware cost.
Save maintenance cost.
Inbuilt reports and dashboards.
In case you want to have a demo system access or you are looking for a online demo just send mail to sales@globalbsc.com or raise ticket online.
Adapt the right fit solution for your business by selecting the right option
Small Shirt
---
Basic Feature CRM with 10 Dollar/User/Month
10 Dollar/User/Month
Medium Shirt
---
Full Feature CRM with 15 Dollar/User/Month
15 Dollar/User/Month
Large Shirt
---
AI and Campaign with full feature + unlimited user
Contact
---
Fastest
Company to Implement CRM
---
BSC Global has been delivering the fastest deployments in various ERP areas including CRM India. It a ready to deploy for small scale industries for their ERP needs. For other ERP users we bring the efficient process and insights to customize as per their needs
Cost
Free CRM for Small Scale Industries
---
The software has been the most cost effective solution for adoption on cloud. With the minimum deployment cost you can just begin the most cost effective solution on cloud . User based license allows you to deliver the best options. To help small scale industries and entrepreneurs to run their pre sales cycle BSC global offers it free of cost for companies with small size and 2 users.
50%
Increase in efficiency of Sales Cycle
---
Its been observed that BSC Global CRM has helped to run the sales cycle with more than 50 percent increase in efficiency. Thus helping business to get the real value from the deployment. SimpCRM is a customer relationship product to take first step to automation where AI algorithms help you to focus on the best contacts and follow ups for business opportunity creation.You can track opportunities, trigger auto mails from the system, reach the right contact with multichannel interfaces
---
Award Winning Solutions
---
50
Its awarded as amongst the best 50 free CRM for business
---
Efficient
Artificial Intelligence Based CRM which has most efficient campaign management
---
1st
Fastest CRM in deployment for customers with just few hours to begin
---
---
CRM Software FAQS- FREQUENTLY ASKED QUESTIONS
---
Q1 . Can you tell little bit about simpCRM as CRM software for Big enterprises ?
With all built interfaces and workflows in place its each to integrate CRM software for big enterprises
Q2. Is this free Customer management Software download?
Yes, its a free CRM software if you are small enterprise .
Q3 . Is it CRM software for Construction Industry?
Its for both small and large enterprises with successful case studies in all types of enterprises its the best for adoption. CRM for Manufacturing , CRM for pharma, CRM for Construction industry , CRM for Small Enterprises , CRM for Big Enterprises
---