Young and Dynamic Team with a focus to Simplify World Around You…!

Among 1st Companies to deploy UX SAP FIORI in India.
Among 1st Companies to implement SAP Design Studio in India.
One the Largest Power distribution companies of the world uses BSC analytics Solution.
One the Largest health care companies of the world used SAP UPgrade solution and services.
One the Largest power cable making companies of the world user SAP FIORI Solution. More than 15 ERP Products designed in last few years
One of India's largest engineering conglomerates uses BSC's Advanace HANA Analytical Solution
One the Largest power cable making companies of the world user BSC's Service Management
---
Solutions to Simplify World Around You..!
---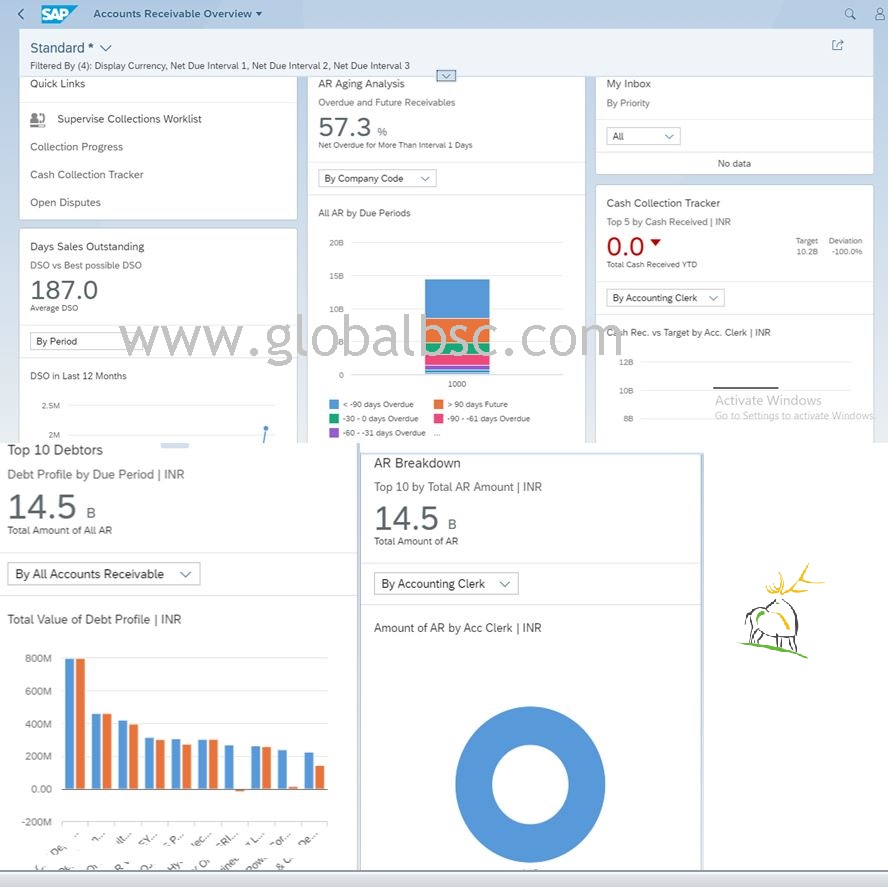 Advance Analytics
Covering the end to end services from basic standard to premium , GlobalBSC simplifies standard and modern analytics for its partners through various technologies and solution in Microsoft Power BI, Qlik, SAP Analytics . With Multiple solutions in place BSC helps in road map designing and adopting the right Analytical Strategy. Read More
---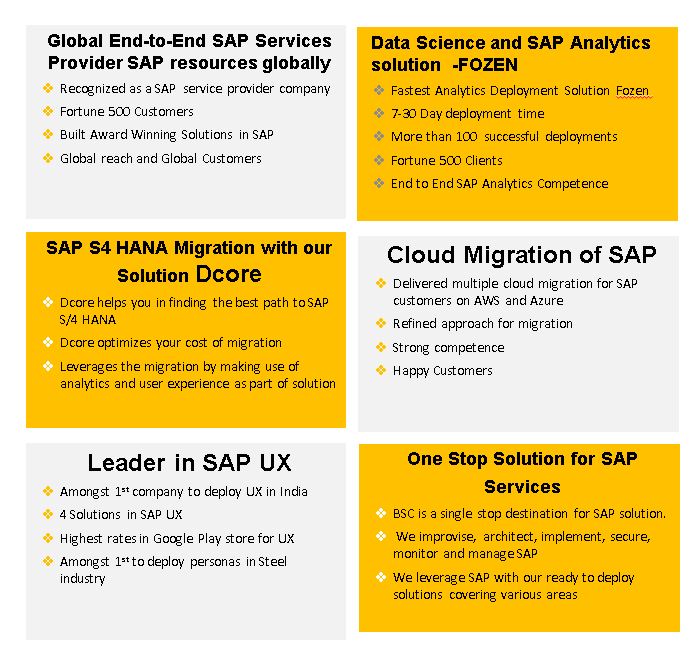 SAP Services Simplified with various Solutions
GlobalBSC has been Simplifying SAP for its customer in various areas of Core ERP, CRM, SCM , Analytics , Robotics , Cloud and various other areas. Through Implementation, Upgrade , Application Management service and Improvisation BSC helps customers to achieve the best out of their Systems. Read More
---
Automate Procure to Pay with SAP Robotics Process Automation
GlobalBSC has Automated Procure to Pay cycle by using SAP RPA •Process invoices with computer and connect to multiple backend systems.Read More
---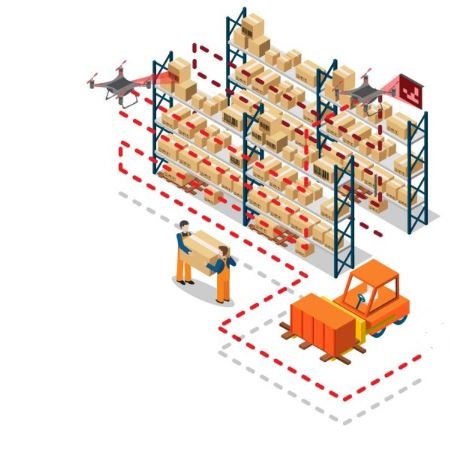 Digital Transformation of Warehouse with BSC Simplified Solution
SimpCore is a GlobalBSC propriety solution which has been designed to help customers running SAP to digitize and automate there warehouse management to optimize your cost of moving to modernized digital world .It helps you to take the best from your data. Read More
---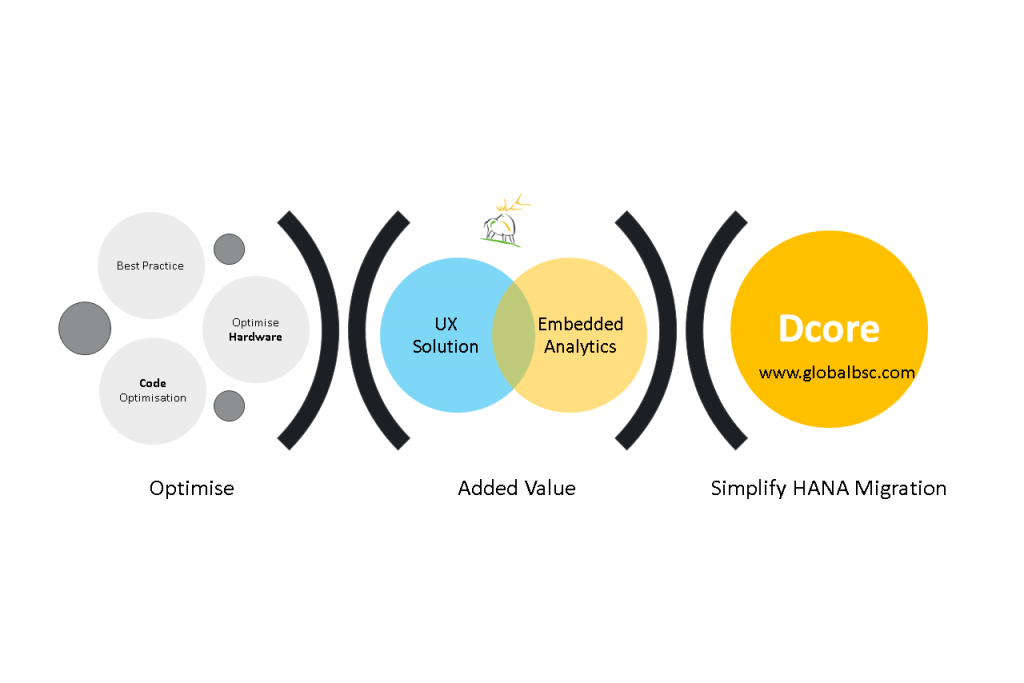 DCore – Find the best path to SAP S/4 HANA migration
Dcore of GlobalBSC helps you to find the best approach for migrating to HANA which helps to optimise cost and helps you to get the best out of HANA systems .Cloud Migrations on AWS have never been so easy.Published this as one of the successful case Study Read More
---
Mobility and User Experience
GlobalBSC offers UX ( SAP FIORI and Personas) and Mobility services in various business process and empower interactions with Customer ,Suppliers and Employees. Reduce turn around time for various approvals and get the best out of Operational analytics. Read More
---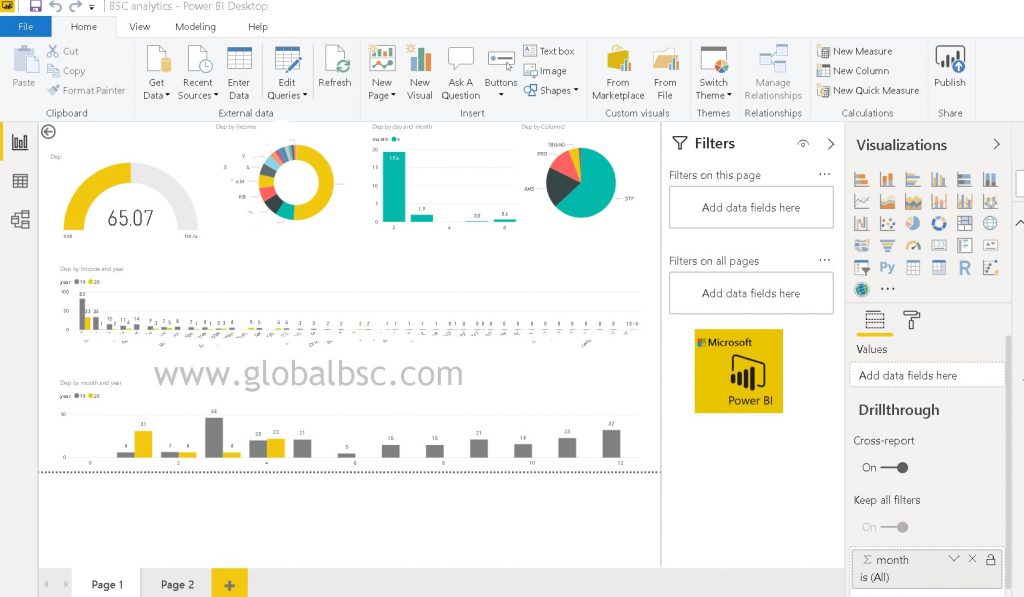 Get the real insight of your data with our Microsoft Power BI Solution
Get the real out of your Power BI implementation with our deployment Solution FOzen which is ready to deploy solution with KPI's and get the real time insight of data with responsive dashboards. Fastest deployment with real time value covering all industries and verticals of business. Read More
---

17% Cost reduction Commitment with BSC's AMZen Approach
AMZen is BSC's Propriety approach to help customers in achieving the basic goal of not only stablising but improving SAP along with a commitment of 17% cost reduction .BSC has already achieved it for various customers . In case you want to know more then do mail us at sales@globalbsc.com
Products to Digitize and Automate your business
---
ERP help you manage vital areas of your business, such as sales, marketing, finance, operations, human resources, and communications.
Get All your Human resource management operations covered right from Recruitment,time-sheet , salary processing at one place.
Lead generation, tracking sales, opportunities and GEO tracking of sales executives and travel.
Time tracking of employees and reporting for the contractors and their salary processing
Project management and task tracking as per the international project management Norms.
Let Us Work Together
---
We are looking for Young Brains!
Success of an organization is because of its workforce. We believe that our workforce are real drivers of our organization. In BSC every associate gets a wide perspective and an end-to-end view of the reprocesses which enables her to get to a greater level of ownership , competence and understanding. Let a journey to wonderful career begin here with BSC.
Just mail us careers@globalbsc.com
We Thanks You All for Having Trust In Us!
---
We thank You All for Choosing us as your Partners in Journey towards Simplification of Software World…!
Contact Us
---

India- Pune Corporate office Plot 169 Sector 27A Pradikran Nigdi Pune -411044 emial sales@globalbsc.com +91-9356412171

India- Registered office Sector 24 , Nilay , Pradikran Nigdi Pune -411044 sales@globalbsc.com +91-9923461085

USA Jefersonville, Montgomery ,PA 19403 :sales@globalbsc.com +15512732065

Netherlands salesnl@globalbsc.com +31627151477

Germany salesag@globlabsc.com

Australia Sales@globalbsc.com