SAP AMS
Stabilise & Improvise- This is the Mantra for our SAP Application Management Services, where stabilizing and continuity of business is the prime considerations and Improvisation is the focus .
Right Process, Right Team and Right tools is creating real value of our Management Services and BSC Global provides Flexible Models to chose from, 24 X 7 Support, Across Globe support experience, All modules of SAP covered, Improvisation team to help you to add value to your systems. Experience of handles oldest SAP installations and supporting big to small enterprises under different support Models, Support center and ticketing tools with right People to help you to keep your business running …
AMzen has been designed in such a way that we will focus in modernization along with improvisation for AMS services
Improvise
Improvise all the processes in system. Fix all the broken areas and give a new road-map in terms of process and technology.
Add the required set of things as per our template
Digitize and Mobilize
Digital solutions Mobility, Digital Signature of all document, Advance Analytics including embedded and predictive, better User experience
Automate
Automate Processes which have been the core for digital transformation road map and hence move on…
---

Cost reduction Commitment with BSC Global's AMZen Approach
AMZen is BSC Global's Propriety approach to help customers in achieving the basic goal of not only stablising but improving SAP along with a commitment of 17% cost reduction .BSC Global has already achieved it for various customers . In case you want to know more then do mail us at sales@globalbsc.com
---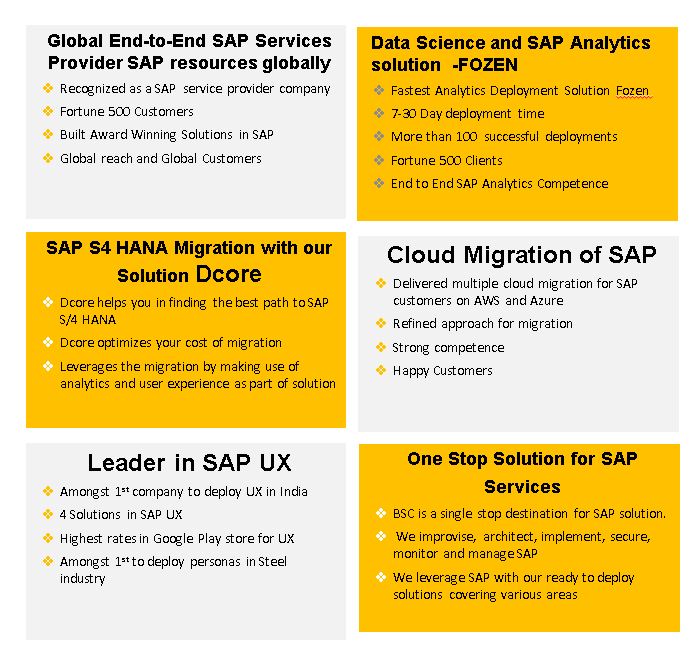 One Stop for All SAP AMS Needs
With a 24X7 support coverage around the globe BSC support all areas of Advisory,SAP including Core ERP, SAP HANA, Analytics ( BW, BI, lumira,Embedded Analytics, Cloud Analytics , Embedded HANA , HANA live, Data Intelligence) , SAP Finance ( FI , CO, PS, BPC), SAP Logistics ( MM, SD, WM, EWM, PP QA) , SAP Sales ( CRM, HYBRIS, GTS), SAP User Experience ( SAP FIORI , SAP Personas), SAP Security ( Authorization , GRC), SAP Technical ( ABAP, HANA CDS, HANA Views, DB, SAP Weigh Bridge Support,SAP Industry Solution(Manufacturing,Health,Chemical,Utility ,Telecom, Finance, Bio Pharma) , DR
---
Sproj – Use the BSC Global's Tools to optimism and align the right process
Sproj has been designed to help you to optimise resource cost for your projects and help you to tract the milestones, incident management, change Management. Read More
---
Options to Buy SAP AMS Services
Pay as You Go
You may pay as per the usage of the services . There is no commitment hours needed for this option
Fixed Hours
You can buy fixed hours for a period the more hours you commit the less is the billing rate .
Dedicated Resource
You can have your resources dedicated in offshore or onsite teams without any commitment of hours.
Success Stories