---
SAP Analytics Cloud – More Insight for Business Strategy
---
With a proven track record of delivering the Fastest deploy in SAP Analytics, BSC Global as a SAP Analytics Service provider has ensured that clients get the real insight in data using their solutions in SAP Analytics cloud . Under our SAP Analytics Services portfolio- We build New SAP strategy and road-map for adoption of SAP Analytics Cloud , We deliver our Solutions for various executive roles in company including CFO Analytics, CEO Analytics and CTO Analytics , We Connect with back end systems including SAP and Non SAP , We do real time analysis of your SAP HANA systems, We analyse CRM and Sales Force using SAP Analytics cloud to give your real view of your pre-sales ,We connect SuccessFactors for Workforce Analytics and Workforce Planning.
SAP Analytics Cloud Simplified
Ready To Deploy
Easy to Access
Value of HANA
Real Time Information
Covering end to end SAP Analytics Cloud Services right from Road Map designing to modernization and migrations. We help our partners to adopt, Innovate, Realize and Analyse their data with SAP data Analytics Cloud with simplified solutions and approaches to help in making the right strategy for your business. We deliver SAP FIORI services under three areas of Innovate, Realize and Analyse.
Self-Service Big Data Analytics
Analytics Cloud Implementation
Analytics Cloud Deployment
Predictive, reporting and dashboard Component Support
---
How BSC Global Can help you with SAP analytics?
---
Simplify
Adoption and Analysis
---
Simplified Adoption for customer with ready to deploy SAP Business Analytics Solutions in various modules. BSC Global brings business understanding for the relevant KPI's which are monitored to help you with the right mapping of Analytics for business .SAP Analytics Cloud has been delivered in simplified form for integrations of various source systems to get data from universal systems
---
Predict data using various algorithm implementations including Churn Reduction -Customer Acquisition -Lead Scoring -Product Recommendation -Campaign Optimization -Customer Segmentation -Next Best Offer/Action , BSC has delivered SAP Predictive Analytics Cloud Planning and prediction for various clients to help them to act for the analysis.
Predict
And Plan the business
---
---
Insight
Many Successful Go Lives
---
Delivering more than 100 Ready to use dashboards and reports in SAP Analytics for operational analytics and strategic analytics. SAP Analytics Cloud helps all major working areas of organisation but especially empowers middle and top management to get the birds eye view of business and help to deep drive in data to find answers for their analytical questions. They can visualize information through simple dashboards and reports generated by SAP Analytics Cloud .This helps to set goals ,organised strategy to reach there .They can even predict the business trend and impact of various factors .
With a proven competence of delivering finest and successful implementations across the globe in SAP Analytics and SAP advance Analytics for traditional SAP Systems and modern SAP HANA system at BSC we try to deliver the best
Empower
Analyzing All Major KPI's for Operational Analytics
---
---
---
Why Choose Global BSC for SAP Fiori Implementation and Development?
---
Implementing SAP Analytics Cloud (SAC) involves a strategic embrace of its best practices to harness its full potential. Crafting an effective strategy begins with creating a dashboard in SAP SAC, a cornerstone for visualizing insights. SAP Analytics Cloud data integration options facilitate seamless data consolidation, leveraging connections to diverse sources. Advanced analytics capabilities within SAP SAC empower users to extract valuable insights through predictive analytics features. Security remains paramount, requiring meticulous attention to safeguard data integrity. Real-time data connectivity fosters proactive actions, while data modeling tips ensure efficiency and alignment with business needs.
Embedded analytics within SAP S/4HANA amplify SAC's impact, as does its integration with SAP BW/4HANA. Comparing SAP Analytics Cloud with SAP BusinessObjects illuminates unique advantages. Configuring the SAP SAC mobile app extends access, fostering agile insights on-the-go. Data visualization best practices steer users toward impactful displays. Maximizing adoption requires crucial user training, encouraging seamless incorporation into workflows. SAC empowers storytelling and infographic creation, communicating insights vividly.
Data blending techniques merge disparate datasets into coherent narratives for enriched analysis. SAP SAC's machine learning capabilities deliver automated insights, and planning and budgeting functionalities streamline financial processes. Smart insights and discovery provide actionable recommendations, harnessing analytical prowess. Navigating the natural language interface is made feasible with SAP SAC's natural language processing (NLP) capabilities. Through this holistic approach, SAP Analytics Cloud unfolds as a transformative journey, empowering organizations with data-driven excellence.
Happy Clients
BSC has many happy clients across the world in SAP analytics
---
Fastest
Company to Implement SAP FIORI
---
BSC Global has been delivering the fastest deployments in SAP Analytics Cloud. Expertise in building SAP analytics Architecture and experience of using all SAP analytics tools has helped BSC to deliver some of the fastest and finest implementations in world.
BSC Global has simplified the SAP FIORI app implementation and configuration and delivered the apps which have got the 5 star ratings in various portals including the Google play store.
500+
Dashboards Delivered
---
Have a strong steam which has delivered more than 100 plus dashboards and reports in Implementations across world in various domains of business. Helping customers to take the real value of SAP HANA systems , BSC has been striving hard to deliver the best in SAP Analytics cloud
---
Award Winning Solutions
---
360 Degree Sales Analysis Made Simple IN SAP Analytics
A robust solution developed with complete set of KPI's for ready to use for analysis by BSC Global." Irrespective of SAP back end system it works seamlessly and helps to cover the all major areas of Sales.
---
Reporting Performance improved by 70% in SAP HANA on AWS
Improves SAP reporting performance by 70%
Gains scalability to support 300% growth in SAP users
Increased server capacity—with CPU at 30%—enables continued growth
Where you see whole world moving to only Migrations BSC Global helps you to take value of migrations by adding value with ready to use solution on HANA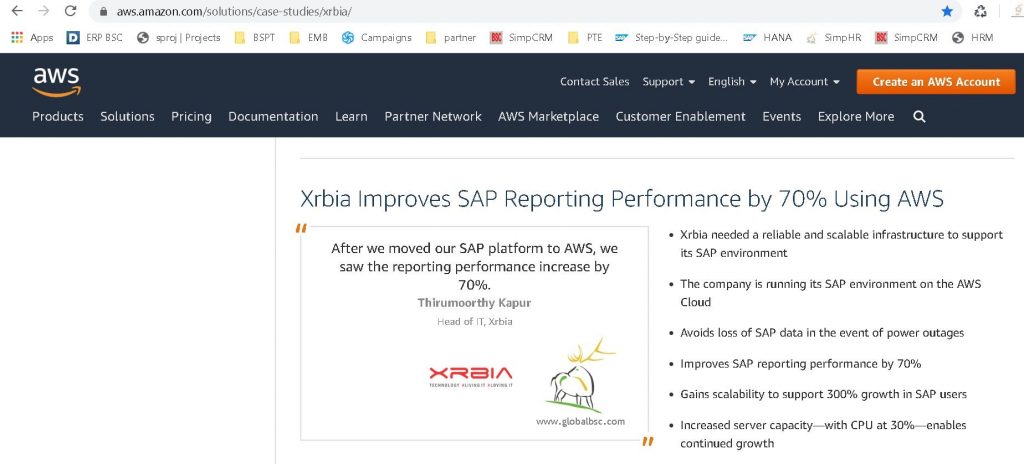 ---
SAP FIORI FAQS- FREQUENTLY ASKED QUESTIONS
---
Q1 . Can you tell little bit about SAP Analytics Cloud Architecture ?
It is a Software-as-a-Service ( Saas) which can fetch data from cloud or on premise data sources . You can create stories, reports and dashboards without actual data replication.
Q2. How can we get the license?
You have a option for pay as you use and is a very cost effective way , SAP provides you a trial of 90 's and we can support you to take the best out of the tool by doing the POC to understand it more.
Q3 . How can BSC leverage the SAP HANA with SAP Analytics Cloud?
SAP Analytics Cloud connects to various data sources which include direct connection with SAP S/4 HANA helping you to get the real time insight of the data.
---
For Demo reach us at sales@globalbsc.com
---