Services
With an focus to simplify services we handle end to end service portfolio in various technologies including SAP , Microsoft, Oracle , UI Path and Open Source technologies ranging from Implementations, support, upgrades and advisory services. Handling more than 500 customers across the globe with proper management tools and approach we learn and delivery the best ….!
---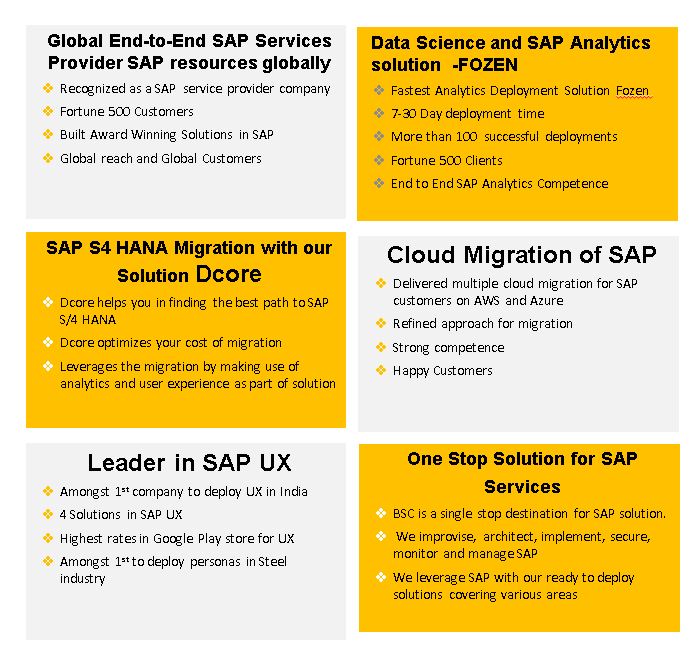 SAP Services Simplified with various Solutions
BSC Global has been Simplifying SAP for its customer in various areas of Core ERP, CRM, SCM , Analytics , Robotics , Cloud, GST E Invoicing System, SAP Fiori and various other areas. Through Implementation, Upgrade , Application Management service and Improvisation BSC Global helps customers to achieve the best out of their Systems
---
Get the real insight of your data with our Microsoft Power BI Solution
Get the real out of your Power BI implementation with our deployment Solution FOzen which is ready to deploy solution with KPI's and get the real time insight of data with responsive dashboards. Fastest deployment with real time value covering all industries and verticals of business.
---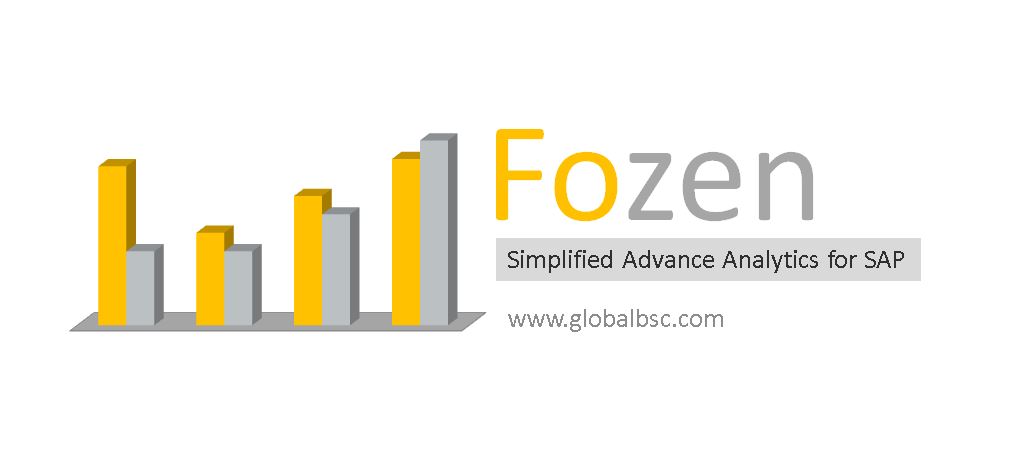 Get Real Value of HANA System with Analytical Solution Fozen
A robust solution developed with complete set of KPI's for ready to use for analysis by BSC Global." This solution is based on traditional SAP ECC , S4 HANA and SOH We provide end to end solution for all the implementation of SAP Business intelligence solution with the best KPI's of the industries to help you to analyze business in a better way
---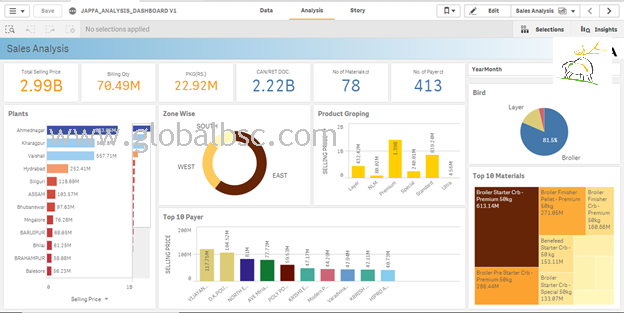 360 Degree Sales Analytics Made Simple in Qlik
BSC Global offers end to end services around Qlik, Qlik and SAP integration ,Qlik and legacy system covering Support , implementation , Migration and Upgrades. Offering one the best solutions for Manufacturing , chemical and Pharma BSC Global holds a very strong competence in this area.
---
Predictive Analytics R Language
Automate Procure to Pay cycle by using SAP RPA •Enhance movement of Robotics in Wareshouses ..Read More.
---
Predictive Analytics R Language
Automate Procure to Pay cycle by using SAP RPA •Enhance movement of Robotics in Wareshouses ..Read More.
---
Mobility and User Experience
Mobility Various business process and empower interactions with Customer ,Suppliers and Employees. Reduce turn around time for various approvals and get the best out of Operational analytics. Read More
---
Cloud Services
Manage and Optimism your Landscape, transform your landscape. With right partners in place we hold expertise in migrating SAP and other application on cloud and managing cloud for our partners. Read More
---
Improved Sales Analysis and Forecasting for one of the Largest Paint maker. Empowered UX
Pharma Company Gets Insight in Patterns by predictive and Machine Learning Algorithms
100 Year Old Engineering Company Find real insight of Data with Embedded Analytics.